---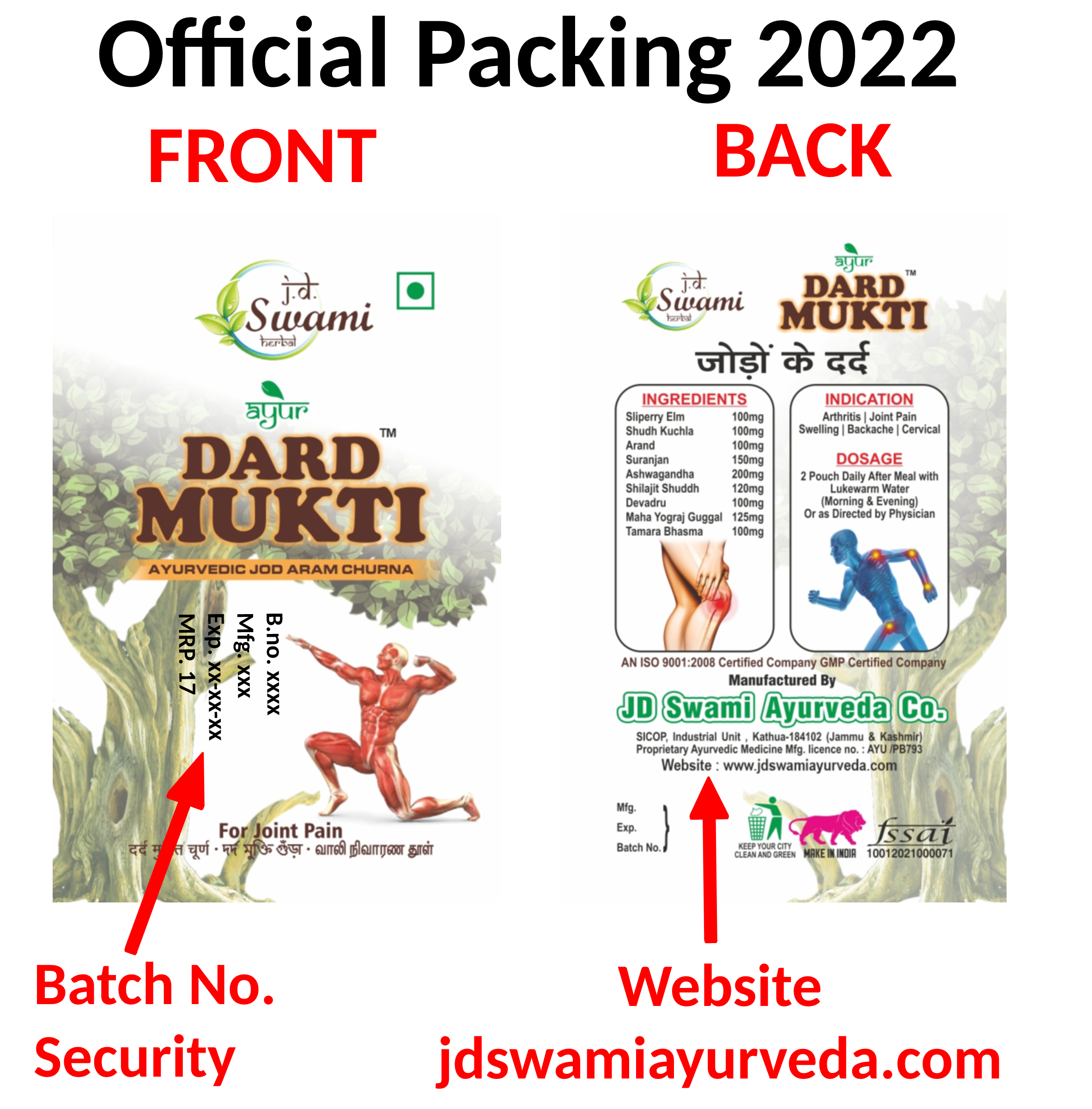 NOTE - Batch number sequences and dates will be published here for the customers to verify their purchase.
| MFG Date | Batch Number | Status |
| --- | --- | --- |
| 07/2021 | 0199 | obsolete |
| 01/2022 | 0200 | obsolete |
| 08/2022 | 0211 | obsolete |
| 10/2022 | 0217 | obsolete |
| 01/2023 | 0323 | running |
| 05/2023 | 0346 | running |
NOTE - Original Dard Mukti Powder Packet color is White not Blue.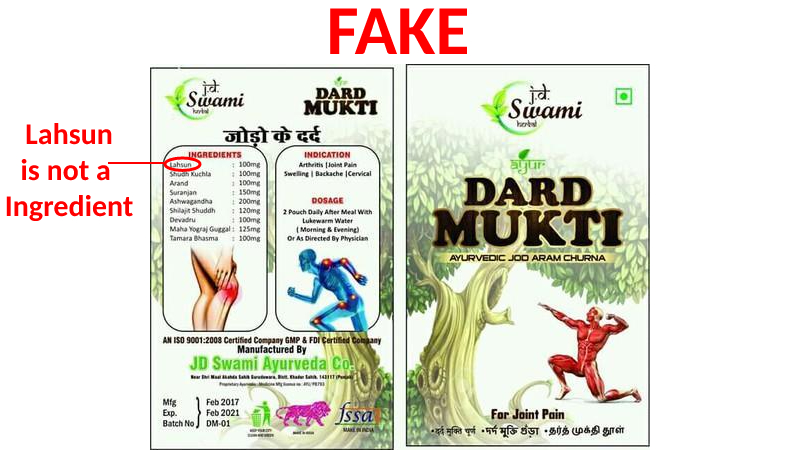 NOTE-
Fake Dard Mukti Powder has a wrong ingridient Lahsun.
INFORMATION
Major duplicacy setbacks at Uttar pradesh (especially in areas of Varanasi, Mathura, Lucknow & Kanpur) Delhi, West bengal, Rajasthan and most of the area's of Gujrat, we decided to mend ways and make some major changes for the benefit of our users and to end the duplicate manufacturing.
MAJOR POINTS FOR OUR CUSTOMER BASE & PEOPLE AT LARGE
1. We at JD Swami herbal and co have now introduced fresh packaging of our product Dard Mukti Powder just to avoid 2 major ill practices:
Duplicacy & Black Marketing of our product: Ortho Nil Powder
2. Our product now has a website (www.jdswamiayurveda.com) printed on the back side where the customer can verify the batch number and buy only the running product and get all notifications of fake products.
3. Never purchase this product without MRP and batch number. Never purchase this product for an MRP of more than Rs. 17 per sachet/pouch. It has been sold in the bracket of Rs 25-40 Rs per sachet/pouch (300-500 per week approx.) each by wrong firms and that is the case of pure black marketing.
The black marketing market hold is majorly in the states of: (1) U.P (2) Madhya Pradesh (3) Gujarat (4) West Bengal
4. The duplicacy responsible manufacturers in Uttar Pradesh (Varanasi), Delhi & Faridabad and West Bengal (Asansol) have unhygienic factories and make this product in the most in-appropriate manner. These firms are not only manufacturing duplicate versions of Dard Mukti powder and are making other products too and playing with the health of innocent people.
- They do not have any lab testing and so do not test the samples before final production.
- Their machinery is deteriorated and they do have genuine pharmacists.
- They do not have any analysts and work just for profit making.
- They do not have government approved laboratories inside their pharmacy and so they cannot test raw material or final material.
It cannot be said on proven basis whether they use herbal material or mix destructive chemicals too giving adverse effects to the body.
- There products are not FDA & FSSAI approved
The duplicacy marketing holds more in
1.U.P(Varanasi, Lucknow, Kanpur)
2. Gujrat
3.Bihar
4. West Bengal
5. Delhi
Other than these states, the duplicacy is promoted through indiamart, meesho & amazon also individual website are selling these products.
We want to bring in notice of our dear user face that we wish to reach the ultimate user ourself and so want you to be smart and capture the duplicate agencies by going through our instructions.
IMPORTANT INFORMATION:
It was then when some users went through major health issues ( like liver swelling, blood in urine & stools,panic attacks, breathing problems, and stomach cramps,weight gain because of some steroidal functions,loss of appetite and even weight loss) and filed complaints on our product, thinking it was made by us, whereas it was the case of duplicacy and was manufactured by other manufacturers. Thus clarifying that it was some forgery manufacturers who used our name for sale of their Adulterated goods only to make big profit by playing with the health of innocent consumer's and making them fools.
Now we wish to transfer pure ayurvedic benefits to our users and that too with utmost clarity and transparency.
About Us
JD Swami herbal and co, SICOP Industrial Unit, Kathua, (J&K), INDIA. The UNIT is GMP, ISO 9001:2008 certified.
Our Manufacturing Policy
We strive to provide current, accurate information your family can depend on. We aim to:
Pre production analysis to ensure quality & efficiency of raw material that herbs used in the ayurvedic herbal products manufacturer is authentic, of prescribed quality and free from contamination. Our Ayurvedic Medicine Manufacturing process complies with all SOPs as prescribed to maintain the standards.

Quality control measures are followed to produce genuine and authentic herbal medicines.

Strict quality check up by quality control team before launching every product in the trade.
Distribution
Our Accreditation & Certifications:
* Ayurvedic Medicine Manufacturing Unit is GMP (Good Manufacturing Practice) certified unit by the Licensing Authority of Ayurveda Department for Ayurveda and Unani Services.
* The Good Manufacturing Practices (GMP) are prescribed as per the Drugs and Cosmetics Act by Govt. Of India.
Details Dard Mukti Powder
| | |
| --- | --- |
| Usage/Application | For Joint Pain and Orthopaedic ailments |
| Brand | JD Swami herbal and co. |
| Form | Powder/Churan |
| Packaging Type | Plastic Sealed pouches |
| Packaging Size | 55gm (one bundle of 14 pouches) |
| Material | Hebral |
| Gender | Unisex |
| Shelf Life | 4yrs |
| Dried | Yes |
| Is It Organic | Organic |
| Is It Dried | Dried |
| Features | No chemicals, Fast relief, No side effects |
| Weight | 4g |
| Colour | Yellow brown |
| Size | 4*8cm |
| Major Ingredient | Bhasmas |
| Common English Name | Dard Mukti powder, JD Swami herbal |
| Age Group | 16-90 |
| Benefits | Acts as a Ayrurvdic pain reliever in cervical, arthritis, osteoarthritis, gout etc |
| Is It Medicated | Medicated |
| Expiry Date | 2025 |
| Goal | Pain Relief |
| Mfg Date | 2022 |
| Storing Instruction | Keep in a cool and dry place away from sunlight |
| Application | Pain Relief Powder |
| Product Name | Dard Mukti Powder |
Contact Us on Email : info.jdswami@gmail.com
Customers are warned that we are not responsible for consumption or purchase of Dard Mukti Powder in this old/fake packaging. Any consumer who consumes or purchases the product in old/fake packaging cannot blame us for any health or related issue.